Full Moon in May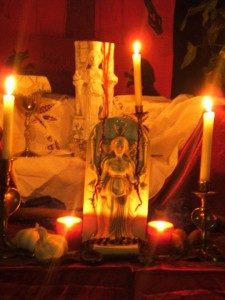 You are invited to join us in the Rite of Her Sacred Fires. The Rite of Her Sacred Fires is a unique international devotional celebration of the mysteries and magic of the Goddess Hekate. It was born out of the Hekate Her Sacred Fires anthology project and offered as an act of devotion for all who wished to participate. The first time it was held was in May of 2010 and it has been offered all over the world since then. I can be done privately in your own home or with a group if offered in your area, and no doubt even online.  Austin RCG is making it available on our May Full Moon. The first year saw the Rite of Her Sacred Fires translated into numerous languages with several thousand people from around the world participating by doing the ritual on the Full Moon that month. Since then the Rite has become a yearly event in May and has now been translated into 25+ languages. All of our events are for women only and donations are requested when possible. These donations pay for the beautiful space we rent for our events.
Imagine doing the same or a very similar ritual with people all over the world in the same full moon?
Bring yourselves, other women, snacks to share! We gather in at 7:00 PM and lock our doors at 7:30 PM, so be on time!