Full Moon in November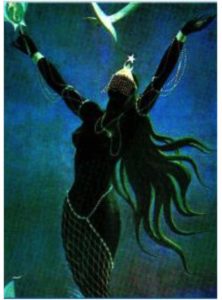 This will be our ritual and celebration of the Full Moon in November.
"Bring the womyn to me. Let them know me." Olokun told jules. "I will be their guide in the Deep." And so, on this first full moon following Samhain, we dive into the Deep fully. Come learn about this Orisha of Yuruba and Ebo tradition, Dark Goddess of Death, Rebirth and much mystery. Then we will journey to Her for guidance in our personal work of the Deep this year.
Doors open at 7 pm and close at 7:30 pm so that we may create sacred space.
Our events are designed for women over 18.  Bring a snack to share for after the ritual if you like and it is not required. We welcome a suggested donation of $10 to help with the cost of renting the space and any needed supplies. No one turned away for lack of funds.