Goddess Book Group for November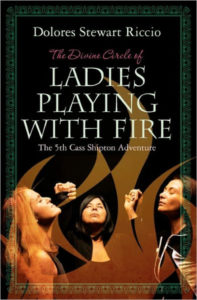 For November, the RCG Book Group reads and discusses "The Divine Circle of Ladies Playing with Fire" by Dolores Stewart Riccio. It is the fifth book of a series but/and each book can stand on its own. It is not necessary to have read the previous books in the series to participate.
Overview: "They're back…and they're playing with fire!
In this 5th episode of Riccio's wickedly entertaining Circle series, Cass Shipton and her bewitching friends return for more crime-solving escapades in historic Plymouth, Massachusetts.
When Fresh Meadow stable is set ablaze one frosty January night, clairvoyant Cass has the vivid impression of a serial arsonist in their midst. Ever willing to "walk on the wild side," Cass and her talented Wiccan circle make it their quest to reveal the identity of this clever fire-starter. Can they bring him to justice before more animals and humans are harmed? But that's not all! In a riveting personal drama, how will they protect their new young friend Sylvie from her abusive stalker? All of the Circle's resourcefulness, courage, and magical skills will be needed to cope with the danger and tragedy of this fast-paced adventure." –from The Barnes and Noble web site
RCG events are designed for women over the age of 18.