Our Beltane Rite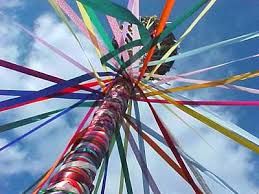 The Faeries are gathering…….
It is Beltane!  Join us for a Faerie Beltane complete with a MayPole Dance!
We bring you a Faerie Beltane ritual.  It is our pleasure to bring this ritual from those who honor the belief that our connection to the Fae is critical to promoting a healthy relationship with the Earth.
Per the mythological history of the Celtic people living in the British lsles, the Tuatha de Danann, a race of magical beings, formed a treaty with the Milesians (the Gaels) and moved underground.  Over time the Children of Danu, the People of the Arts, the Tuatha de Danann, became the gods and goddesses of our Celtic pantheon. They are also known as the Fae, or the Faerie race.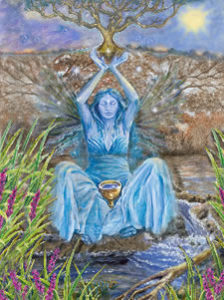 These Faerie Traditions honor the ways of the Fae, claiming a kinship to all of life, the trees, plants, animals, and stones. Some of the teachings come from the Ogham. The Mysteries of the seasons and cycles determine and call the Deities to us.
We will be honored by the presence of Aine, Goddess of Love, Light, and Fertility, Queen of the Faeries, whose name means "brightness."  She was known to take lovers from the mortal race of men, who fathered many of her children. Many of us today, may even be related to this Queen of the Fae.
We celebrate Beltane, the First Day of Summer, our work, the blossoming of all that we have done to prepare for this time. We will invite the Fae to join us on this special occasion.
This is a woman only event – bring snacks to share – donations are truly appreciated! Ritual actually begins at 7:30 when we lock the doors so come @ &:00 to visit first!