Saimhain Ritual and Celebration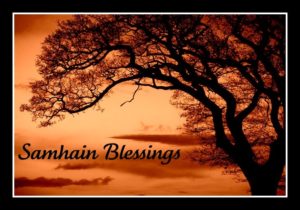 This will be our Saimhain Ritual and Celebration.
It is almost Hallows already! The time of the the Deep is upon us.
This year will be visiting those who have gone through the veils, sometime in the past. We will part the veils to visit those who are willing to come to us. We will be in safe sacred space when we do this.
Come join us. This is the time to really 'dress up like a witch!' so wear your newly decorated witch's hat, your capes, whatever ritual attire you feel like wearing.
If you would like to create an ancestor altar, we will have altar space set up for that. This can be done in the time between arrival and ritual so the ancestors can be present for ritual. Bring photos and/or mementos to put on that altar.
I hope to see many of you there for Hallows!
The priestesses for the evening will be Linda and Jules.
Doors open at 7 pm and close at 7:30 pm so we may create sacred space.
Our events are designed for women over 18. Bring a snack to share for after the ritual if you like and it is not required. We welcome a suggested donation of $10 to help with the cost of renting the space and any needed supplies. No one turned away for lack of funds.
This event is hosted by the Ritual Planning Committee.